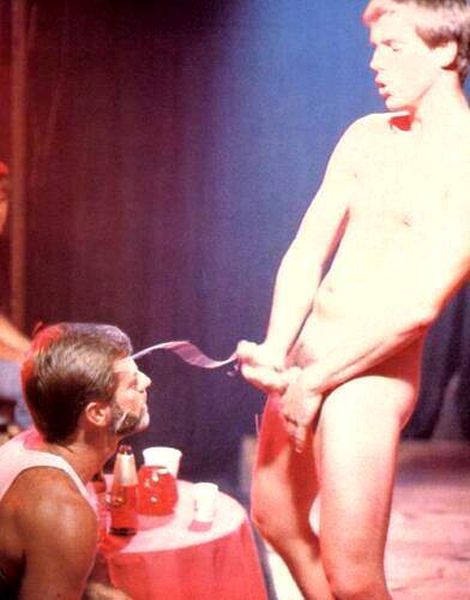 Sometimes I read (and answer) my reader's email! Probably all this talk about Steve Taylor has the Universe converging on him, as this exact scene was mentioned in a post yesterday, just before I got this email.
subject: i hope you can help me!
Hi!
I hope you can tell me what video this pic is from?
that's all i have is a pic. i hope there is a full video or at least a scene with this pic!
thank you for your reply,
GB

Dear GB,
awesome pic you've found! It's Derrick Stanton, from the film Performance, with an "assist" by Steve Taylor (Al Parker's partner). Both Al and Steve are in the audience for the performance above, and you'll also see them in the below clip. I believe the video is available at Bijou Video.
Performance
directed by: Steve Scott (1981)
Starring: Nick Rodgers, Mel Chor (aka Melchor), Shawn Victors, Jim King (aka J.W. King), Derrick Stanton, Chris Kopay, Bob Moore, Dean Barey, Tony Vose, Kurt Jacobs, and introducing Steve "12" York and Le Cocq. (plus cameos – can you see them in the audience?)