Good example of yet another topic/tag – "great pics, where's the film/video" – since there was indeed a film – Leather Lovers (1978) – but no (currently known) VHS, DVD, or digital version….
These particular pics of Dan Pace and Norm come from the 1978 magazine THE LEATHERMEN – which I sold back in 2006 – arrrggghhhh! (see cover below)
but variations from this photo shoot / film are also scattered among several "House of Milan" photomagazines in the Men of Action, Action Male, and Men of Action in Bondage series.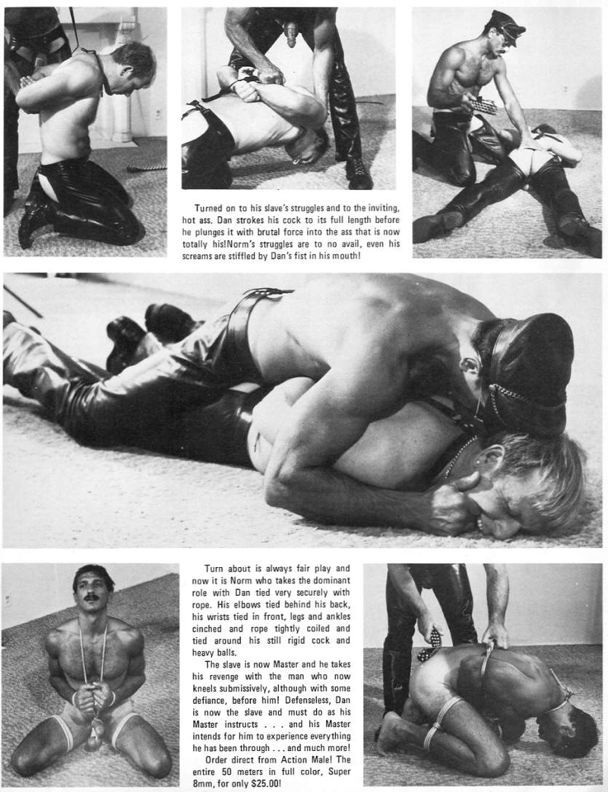 promo for the film: "LEATHER LOVERS stars two new discoveries, Dan and Norm. Besides having great bodies, these two super studs share a love for leather and rough sex and in this unique movie there's plenty of both! Wishing to torment his slave, Dan rolls him over and grinds his leather heel into the slave's crotch and strokes his enormous cock as Norm writhes in agony! His slave has not resisted this punishment and as a reward Dan sits squarely on his face! His reaction is immediate, his body tenses with effort as he pounds his meat! Norms' obedience has its rewards."