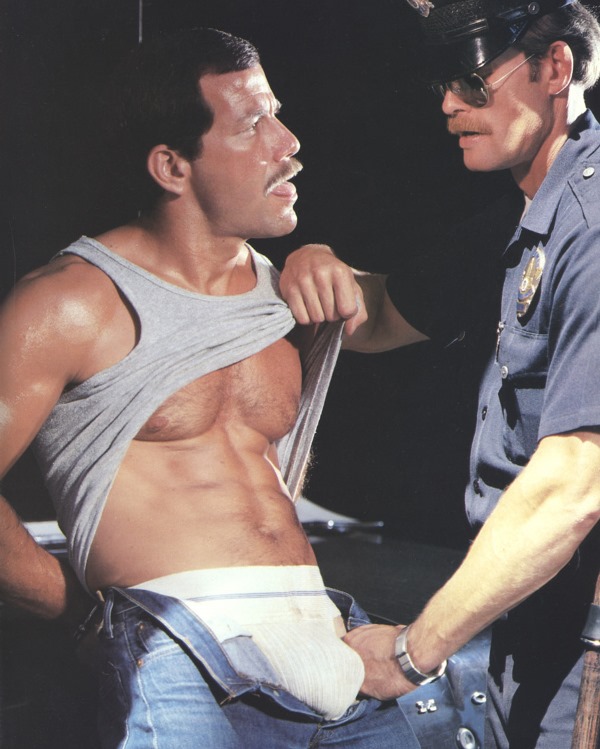 Hard to understand why these men hadn't made a film together – Lockner made just the 4 below, the first 3 for COLT, of course. In fact, Lockner's scene in Face to Face is nearly the same as what is portrayed here, from COLT MEN 5; Highway Patrolman Lockner nabs Squires and forces him into sex. The in COLT MEN 8, Lockner, Rutter, and Squires pose like Lockner, Rutter, and Mike Davis do in Moving Violation! Each man, in fact, does a film with Jack Hackner, and I'm thinking was there a scheduling conflict with one of them, or the film crew? Sigh. And within all of that, you've got these two awesome COLT magazines where those 2 mustaches never actually mingle – you see Mickey's dripping with sweat ( I think that's sweat) and Lockner's mouth, well it just seems to open to bark orders! The tease of those 2 mustaches is almost more than I can handle. I wonder if Lockner kisses in any of his films? (Class, that's an assignment). Meanwhile, I just had to throw in a bit of Rutter at the end there.
Lockner's Key – with Bruno
Playing with Danger – with Jack Hackner
Moving Violation – with Mike Davis and Mark Rutter
Steve Scott's Face to Face – with Scott Anderson
maybe just a bit more facial hair in the mix, please? That's better!